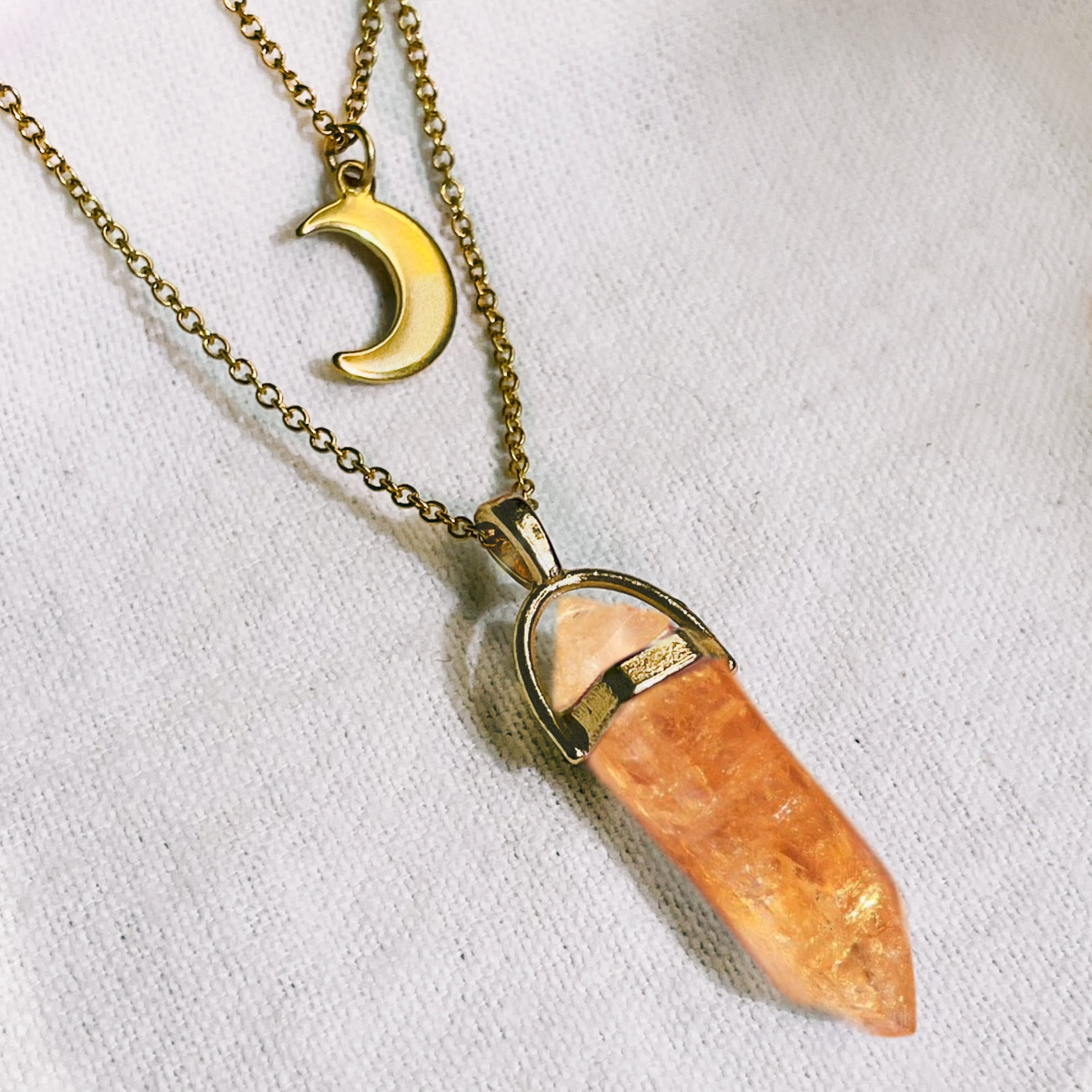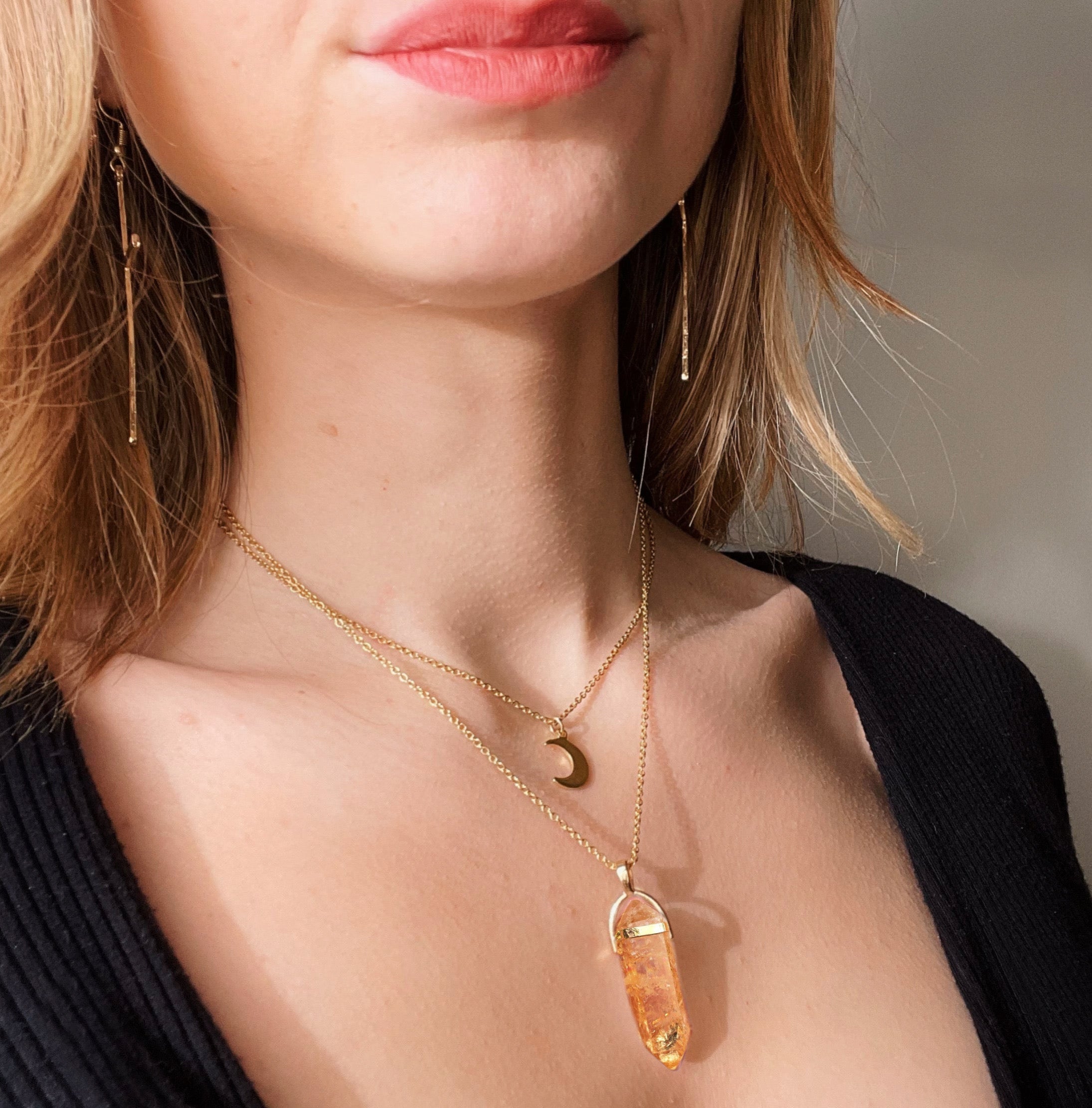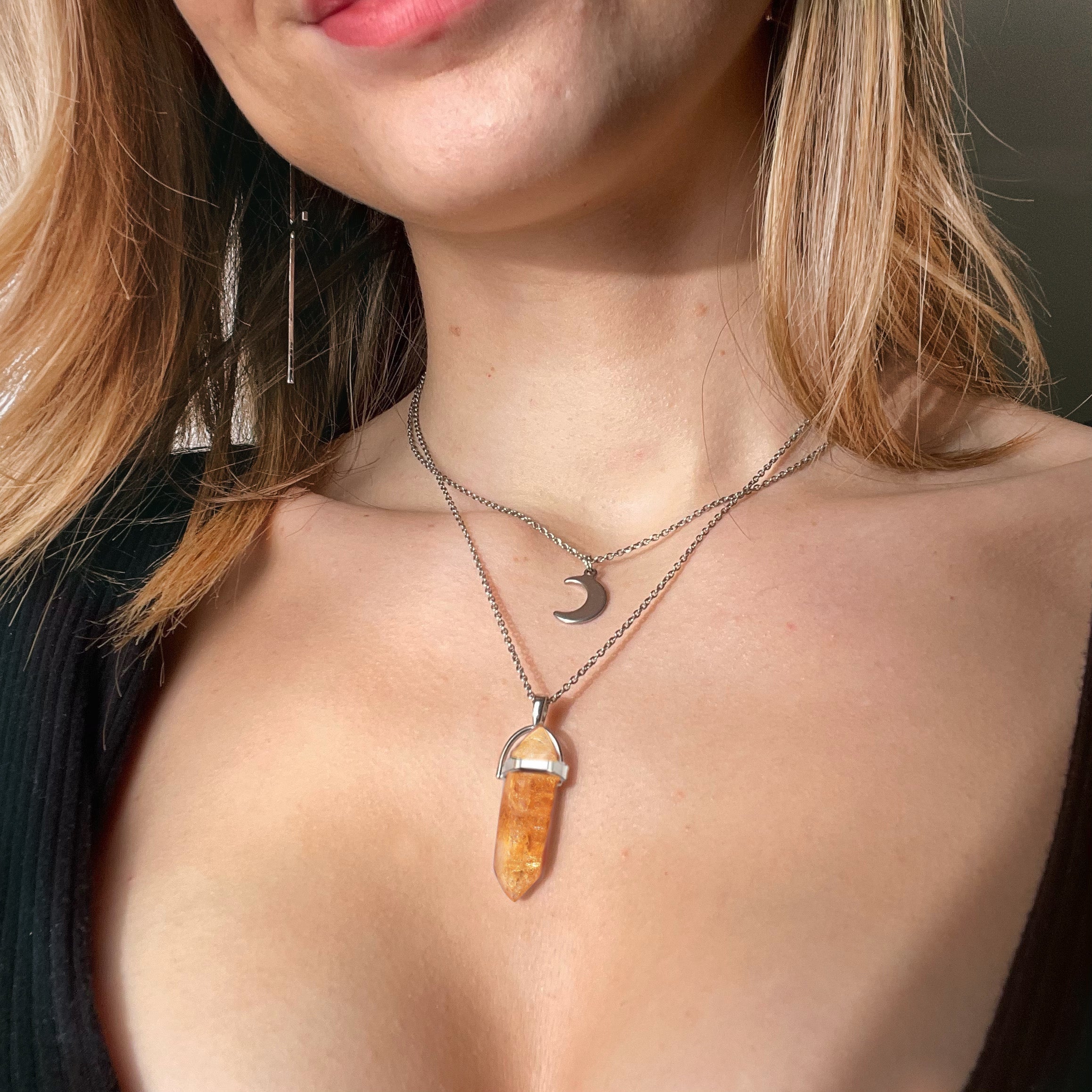 The Boss B*tch 💰
$69.00
Regular price
$79.00
Subscription • Save
Time to bring success and joy into your life  ✨ 
CRYSTAL: Citrine from Brazil
POWER OF THE BOSS B*TCH : Wealth, Success and Joy.
A must-have for any #girlboss or any woman owning a small business 
Gives you the strength and the courage to take risks, change your life, and

 

places yourself as the star of your own movie 
Gives you luck to succeed in your personal life, at work or in your business
When worn, you will discover all your hidden potentials, and attract all the opportunities you need to achieve your goals. 
Citrine brings joy into your life and removes the negativity inside of you
DETAILS: 1.5 inch Citrine on 17inch stainless chain.
What is Heat Treated Citrine ?
Citrine is naturally formed on Earth when natural Amethyst or Smoky Quartz is heated deep inside our planet at 900 degrees Fahrenheit. You can either purchase natural citrine, but it's rare and expensive, or lab citrine, where natural Amethyst or quartz is heated to reproduce the natural process from Earth. Both are the same. The citrine we used for this necklace has been made in lab, which is exactly the same as a natural one. Lab citrine is slightly more powerful though, as it's been created recently.
📦  Note : All orders come with a guide explaining the power of each stone, and how to program your necklace.
The Boss B*tch 💰
$69.00
Regular price
$79.00
Composition
✨ GENUINE CRYSTALS ONLY ✨
All our necklaces and rings are made out of genuine crystals. They are certified by a Gem Testing Center. The only stone that is man-made is Opalite.
As all our stones are natural, the color of your stone may vary a little bit from the picture, depending where your pendant was cut in the stone.
💜 HIGH QUALITY JEWELRY 💜
All chains are stainless steel and won't turn your neck green, our rings are 925 Sterling Silver and won't turn your fingers green either.
All our Elixirs and sprays are HANDMADE in the US 🇺🇸
We only have limited stock on them, so don't miss out if you see the one you want still in stock 😘
Care
Remove your necklace before taking a shower, doing sport or putting perfume, to protect its shine. You are good to go now !
Please also note that the stones are protected by a wax, to keep its shine forever 💜 
For Elixirs: keep your elixirs in your bag and carry them everywhere with you 😘
Program your crystal
✨ All our crystals work with intentions.
It's really important that you follow the instructions in the guide you will receive in your package 💜
Learn more
What babes say about The Boss B*tch 💰