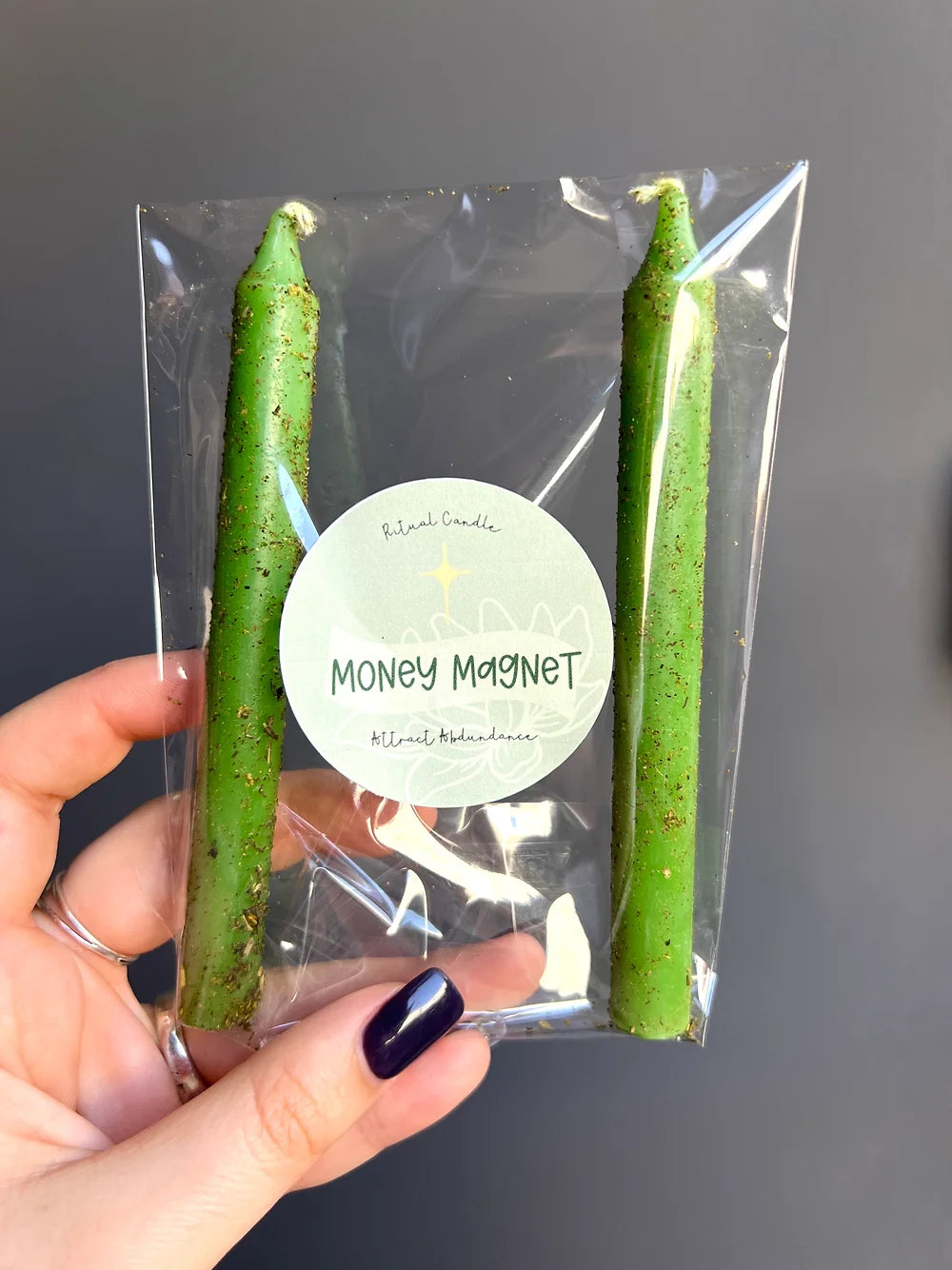 The Money Magnet Spell
$22.95
Regular price
$25.95
Subscription • Save
THE SPELL : 

Money Magnet is for attracting wealth abundance & success.

 

 

✨
Instructions 
Place the candle in a candle holder or a fireproof bowl prior to lighting up candle
As you are lighting the candle, you can say an affirmation for wealth and success from our eBook (but you don't need one if you do not want to)
Let the candle burn completely

Once the candle is completely burned, the spell is complete
So mote it be
How is it made?

 
Each candle is made with herbs and oils
 by a professional who has been practicing witchcraft for over 10 years. She is well versed in the craft & hopes you enjoy her creations!
The Money Magnet Spell
$22.95
Regular price
$25.95
Composition
✨ GENUINE CRYSTALS ONLY ✨
All our necklaces and rings are made out of genuine crystals. They are certified by a Gem Testing Center. The only stone that is man-made is Opalite.
As all our stones are natural, the color of your stone may vary a little bit from the picture, depending where your pendant was cut in the stone.
💜 HIGH QUALITY JEWELRY 💜
All chains are stainless steel and won't turn your neck green, our rings are 925 Sterling Silver and won't turn your fingers green either.
All our Elixirs and sprays are HANDMADE in the US 🇺🇸
We only have limited stock on them, so don't miss out if you see the one you want still in stock 😘
Care
Remove your necklace before taking a shower, doing sport or putting perfume, to protect its shine. You are good to go now !
Please also note that the stones are protected by a wax, to keep its shine forever 💜 
For Elixirs: keep your elixirs in your bag and carry them everywhere with you 😘
Program your crystal
✨ All our crystals work with intentions.
It's really important that you follow the instructions in the guide you will receive in your package 💜
Learn more
What babes say about The Money Magnet Spell