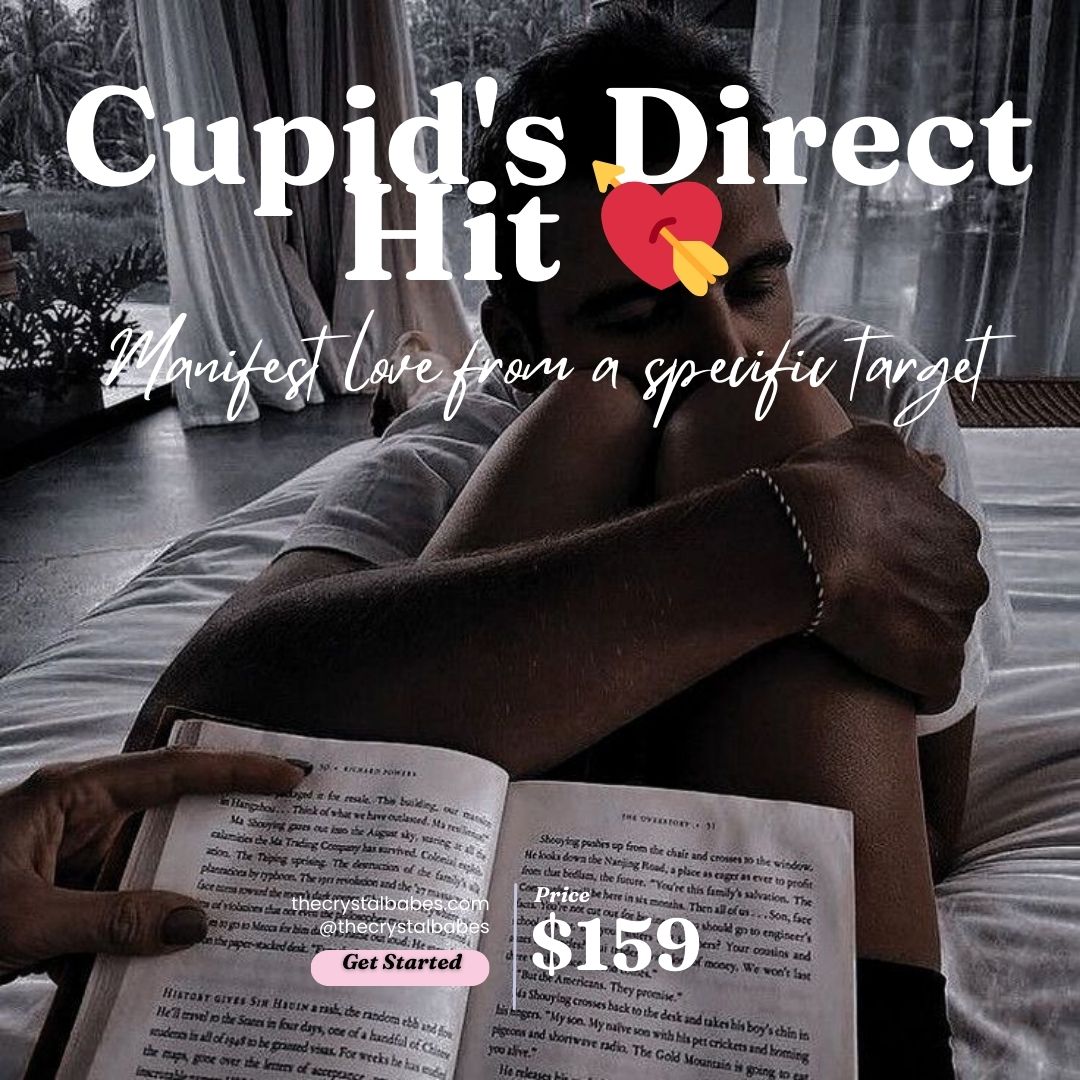 Cupid's Direct Hit 💘
$159.00
Regular price
$227.00
Subscription • Save
Unlock the power to captivate that special someone's heart.
Our "Cupid's Direct Hit" bundle combines the power of crystals, potent spells, and transformational affirmations. Over a 3-week period, you'll align the universe to your desires, drawing in that specific individual you've set your heart on.
🌟 Inside Your Bundle:
🌹 The Magnetic Necklace (Rose Quartz): For drawing in specific love and ensuring your energies are aligned with theirs.
💍  The Bad B*tch Ring (Carnelian): Carnelian is THE crystal to unleash your dark feminine energy and make you attractive AF.
💖 The Enchantress Elixir: Imbue your daily aura with an enchanting charm specific to your love interest.
💌 Cupid's Arrow Spell: Specifically crafted to connect two hearts, regardless of distance.
📖 Ebook (The Ultimate Guide to Manifestation - 269 Affirmations): Discover the power of affirmations to call forth your love intention. NOTE: you will receive it by email the day your package is shipped.
💫 Your 3-Week Love Manifestation Program:
✨ Week 1 - Setting The Intention:
Day 1-3: Start by wearing the Magnetic Necklace. As dawn breaks, visualize it acting as a magnet, attracting your specific love interest. Affirm, "Our souls are intertwining."
Day 4-7: Introduce the Bad B*tch Ring, enhancing your allure. As you wear it, visualize it as a magnet pulling your specific love closer. At night, harness affirmations from the "Heal a Past Trauma" chapter from your ebook to release any past barriers preventing your union (don't skip this part!! It might be the reason why you are stuck right now) 
Night Ritual for the 1st week: As evening falls, engage in a 15-minute Love Attraction Meditation from Youtube, focusing on your specific person.
✨ Week 2 - Strengthening The Bond:
Day 8-10: Apply the Enchantress Elixir, feeling its power draw your person's thoughts to you.
Day 11-14: Commence the Cupid's Arrow Spell, burn the first candle. Envisioning it piercing your love's heart, making them more receptive to your energy. Dive into affirmations from the "Manifest Deep Friendships" section of your ebook, imagining shared moments with them.
Morning Ritual for the 2nd week: Begin each day with a 10-minute Bonding Meditation from Youtube, focusing on deepening your connection.
✨ Week 3 - Culmination of Desires:
Day 15-18: With the Elixir, declare, "Every moment brings us closer."

Day 19-21: Intensify your ritual with all elements. Burn the second candle and feel the universe conspiring to bring you two together as you engage with affirmations from the "Become Fatal" section of your ebook.

Morning Ritual for the 3rd week: End each day with a 20-minute Heart-to-Heart Connection Meditation from Youtube.
Step into this transformative journey, aligning energies, and beckoning your heart's specific desire. With intention, passion, and the universe on your side, the love story you seek unfolds. Your romantic narrative awaits! ✨🔮💖
Cupid's Direct Hit 💘
$159.00
Regular price
$227.00
Composition
✨ GENUINE CRYSTALS ONLY ✨
All our necklaces and rings are made out of genuine crystals. They are certified by a Gem Testing Center. The only stone that is man-made is Opalite.
As all our stones are natural, the color of your stone may vary a little bit from the picture, depending where your pendant was cut in the stone.
💜 HIGH QUALITY JEWELRY 💜
All chains are stainless steel and won't turn your neck green, our rings are 925 Sterling Silver and won't turn your fingers green either.
All our Elixirs and sprays are HANDMADE in the US 🇺🇸
We only have limited stock on them, so don't miss out if you see the one you want still in stock 😘
Care
Remove your necklace before taking a shower, doing sport or putting perfume, to protect its shine. You are good to go now !
Please also note that the stones are protected by a wax, to keep its shine forever 💜 
For Elixirs: keep your elixirs in your bag and carry them everywhere with you 😘
Program your crystal
✨ All our crystals work with intentions.
It's really important that you follow the instructions in the guide you will receive in your package 💜
Learn more
What babes say about Cupid's Direct Hit 💘