Get Your Ex Back
$159.00
Regular price
$300.00
Subscription • Save
💔 Missing your ex or the love of your Significant Other and longing for their love? We've got the ultimate bundle to help you reignite that spark and make them regret ever letting you go. Our carefully curated bundle is designed to increase your value and make you irresistible. It works with exes, but also if you are in a relationship and feel distant from your partner.
🌟 The Bundle includes:
1 x The Magnetic Necklace (Rose Quartz)
1 x The Bad B*tch Wand (Carnelian)
1 x The Lucky Necklace (Green Aventurine)
💖 How it Works: We've heard countless success stories from clients and TikTok users who have experienced the magnetic power of carnelian. This crystal is an attraction powerhouse, drawing people towards you wherever you go. But in your case, you don't just want anyone's love. You want the unconditional love of your ex, and that's where Rose Quartz comes in.
Rose Quartz is the ultimate crystal for attracting love. It not only helps you draw in your ex's love (even if they don't know why), but it also cultivates self-love within you. The secret to getting your ex back lies in learning to love yourself without them, and Rose Quartz is the perfect crystal for that journey.
Have you ever noticed how women tend to become more attractive and alluring after a breakup? It's because they take time to focus on themselves and shine from within. While men may initially feel relieved after a breakup, they soon realize the emptiness and loneliness that follows. That's when they start to regret their decision and long for what they once had.
Now is your time to shine! Work on yourself with the power of crystals, especially Rose Quartz, to rediscover self-love and inner radiance. Step out with confidence, spend time with friends, get that new haircut or tattoo you've always wanted, and post your amazing adventures on social media. As you embrace your newfound self-worth and attract positive energy, you'll become a magnet for attention and opportunities.
But what if your ex still hasn't come around? Chances are your vibrations are still low, and you're stuck in a cycle of regret and longing. Begging and trying to convince them won't change their mind—it's time to focus on yourself and increase your own value.
💫 How to Use the Bundle: Place The Bad B*tch Wand on your nightstand as a symbol of your transformation. This powerful crystal will not only boost your self-love but also attract your ex's love back into your life. Follow the programming tutorial in the guide you'll receive to set your intentions. Each morning, hold your Carnelian, close your eyes, and feel its love energy flowing through your body.
Wear The Magnetic Necklace (Rose Quartz) for at least three days a week, focusing on attracting your ex's love. On two other days, wear The Lucky Necklace (Green Aventurine) to invite luck and positive opportunities into your life. Say YES to every opportunity that comes your way.
On the remaining two days of the week, wear The Magnetic Necklace and dedicate them to self-love. Take care of your body, engage in physical activities, try new hairstyles, and pamper yourself. Embrace the beauty and power within you.
Unlock the magic of this bundle and reclaim the love you deserve. Don't waste any more time longing for your ex—make them realize what they're missing and come running back to you. Your journey starts now! ✨🔮💖
Get Your Ex Back
$159.00
Regular price
$300.00
Composition
✨ GENUINE CRYSTALS ONLY ✨
All our necklaces and rings are made out of genuine crystals. They are certified by a Gem Testing Center. The only stone that is man-made is Opalite.
As all our stones are natural, the color of your stone may vary a little bit from the picture, depending where your pendant was cut in the stone.
💜 HIGH QUALITY JEWELRY 💜
All chains are stainless steel and won't turn your neck green, our rings are 925 Sterling Silver and won't turn your fingers green either.
All our Elixirs and sprays are HANDMADE in the US 🇺🇸
We only have limited stock on them, so don't miss out if you see the one you want still in stock 😘
Care
Remove your necklace before taking a shower, doing sport or putting perfume, to protect its shine. You are good to go now !
Please also note that the stones are protected by a wax, to keep its shine forever 💜 
For Elixirs: keep your elixirs in your bag and carry them everywhere with you 😘
Use the law of attraction with your crystals 💫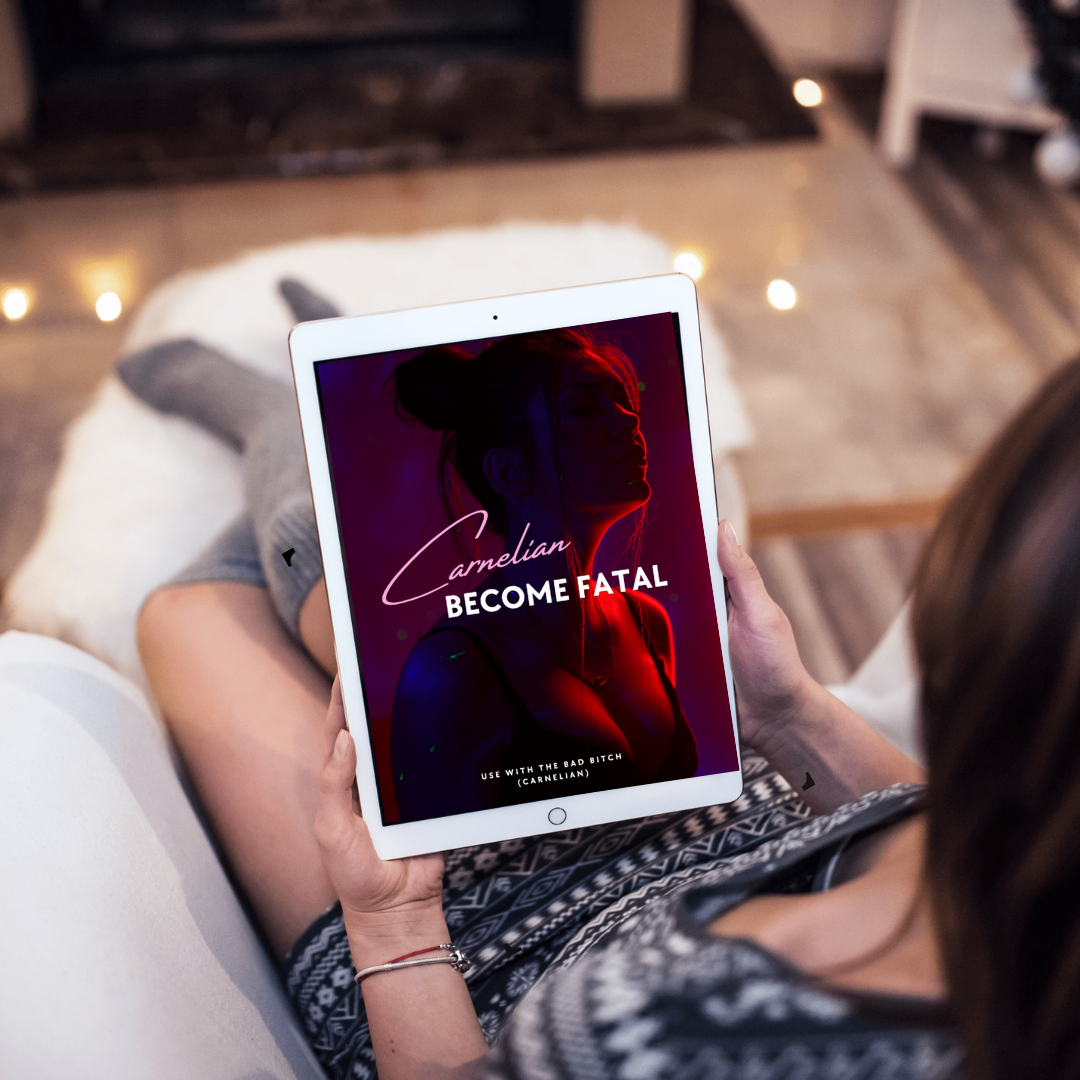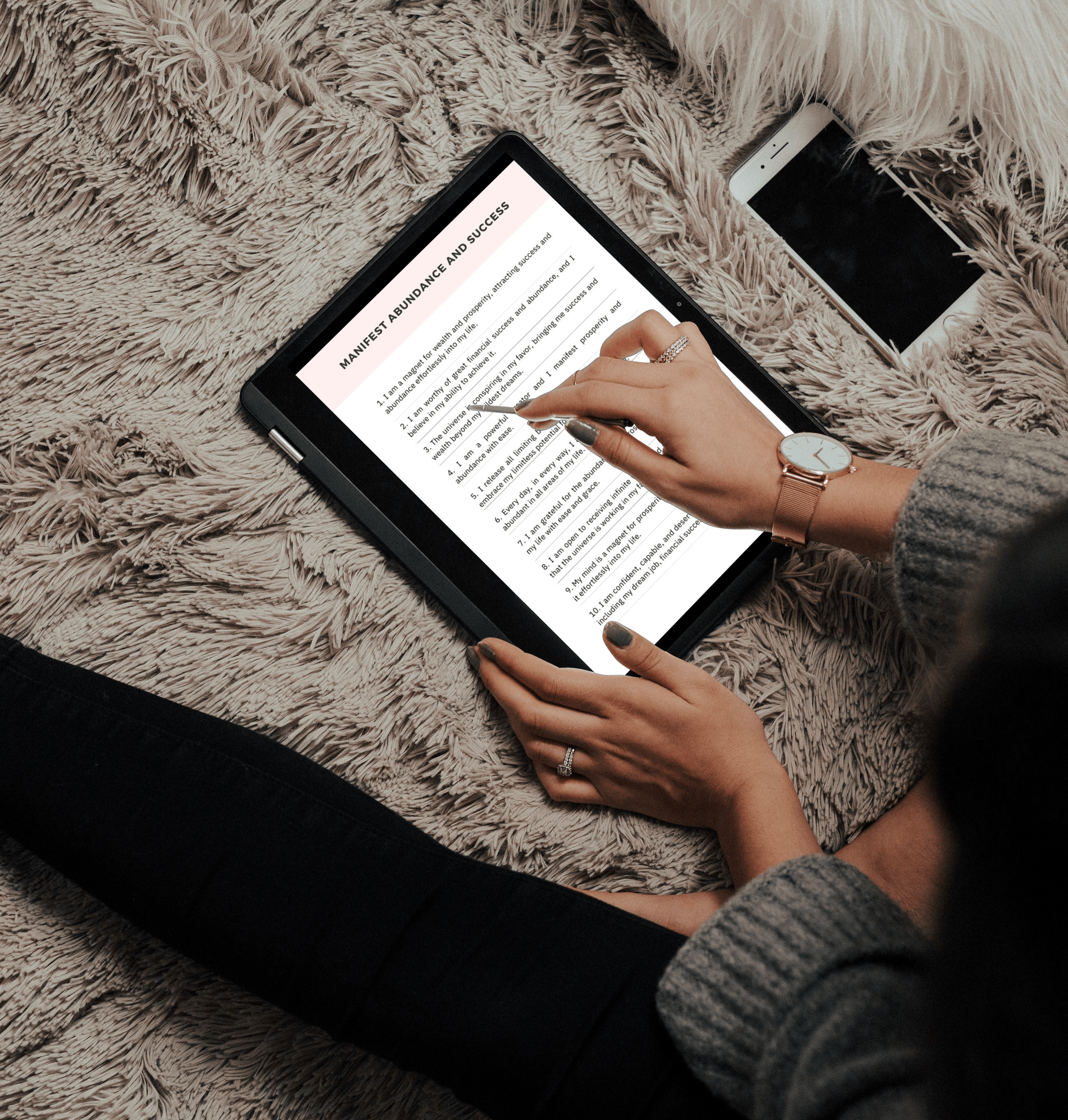 The Ultimate Guide to Manifestation (Ebook)
Partnership with Harvard-trained psychologist Kim Maldese, author of "Become Fatal"
Level up your manifestation game! 💖 This Ebook contains affirmations to use with each crystal you purchase from our store. You will find affirmations for becoming fatal, attracting soulmates, stop overthinking, getting rid of toxic energies, manifest wealth, heal past traumas, get a better s*x life ✨ Use your desired affirmation daily while holding your crystal.
WHAT'S INSIDE ?
After an introduction and User Guide, you'll find how to :
Heal a past trauma (10 affirmations)
Stop overthinking (10 affirmations)
Manifest deep friendships  (20 affirmations)
Manifest wealth & success (30 affirmations)
Change the way people see you (30 affirmations)
Get rid of toxic people (20 affirmations)
Improve your well being & be happy (30 affirmations)
Develop your self love & attract your soulmate (40 affirmations)
Become fatal (60 affirmations)
Manifest your best S*X life (9 affirmations) - 18+ ONLY
HOW WILL I RECEIVE IT ?
After your purchase, you will receive an email to download the ebook in PDF. You can either keep it on your phone, your tablet, or print it.
WHY DO AFFIRMATIONS WORK SO WELL ?
Affirmations are powerful because they work at the subconscious level of the mind. By repeatedly focusing on positive affirmations, we can gradually replace limiting beliefs and negative self-talk with positive, empowering thoughts. 
Affirmations help to activate the brain's reward centers, triggering the release of feel-good neurotransmitters like dopamine, which can help to reinforce positive habits and behaviors. This positive feedback loop can lead to lasting changes in our thought patterns and behaviors, allowing us to achieve our goals and realize our full potential.
WHY PAIRING THEM WITH CRYSTALS ?
Each crystal has its own unique energy signature, and by pairing a crystal with an affirmation that resonates with its energy, you can create a powerful synergy that can help to deepen your connection to the affirmation and enhance its effects.
Program your crystal
✨ All our crystals work with intentions.
It's really important that you follow the instructions in the guide you will receive in your package 💜
Learn more
What babes say about Get Your Ex Back